Evil Angel recently released John Stagliano's latest opus, Psychotic Behavior, and though we only made it through the first scene so far, it seems safe to say that this movie was definitely, absolutely funded by the Domino Sugar corporation (or an equally large player in the sugar industry). While a large portion of the opening scene does involve the raucous buttfucking that we would consider to be the hallmark of Mr. Stagliano's work, he seems to have gone out of his way to include, like, twenty minutes or so of marshmallow and refined sugar based content.
An odd choice in the current pornographic climate, but Stagliano is nothing, if not a raconteur, as we all know.
Anyway, judge for yourself. It's pretty much not possible that the refined sugar lobby wasn't at least partially involved in this movie, right?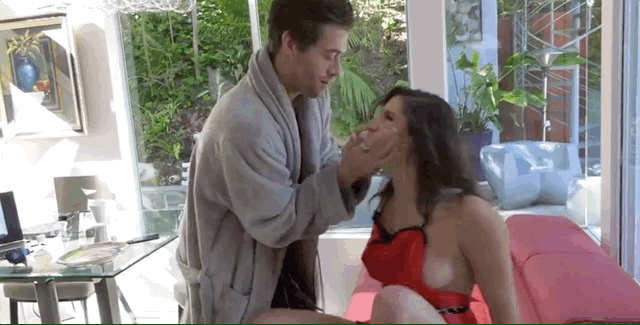 From there, the marshmallow festival appears to have ended and we move on more of a general "garmonbozia" thing, no doubt influenced by Sunday night's groundbreaking (albeit polarizing) Twin Peaks finale. As big-time Lynch fans, we here at POPPORN are happy to see that Stagliano's operating on the same wavelength. Kudos, John!
But the David Lynch homage doesn't last all that long, as we soon find our way back in the messy world of processed sugar. Some might argue that it's irresponsible to present today's youth with such reckless sugar consumption, what with diabetes being out of control, not to mention ADHD and all the other problems associated with large amounts of sugar consumption. Of course, this is assuming kids are watching this movie, which…y'know…they really shouldn't. Anyway, WHIPPED CREAM!
Have we convinced you of big sugar's influence on Evil Angel's output yet? If not, please allow us to make our case in one last gif, in which Stagliano (though the vehicle of ultra popular award-winning performer Abella Danger) depicts vegetables as actual human excrement, as if to say "vegetables are totally just a bunch of shit, because sugar makes the world go round" or something equally as poetic.
Stay healthy and eat right, guys!
Also, Psychotic Behavior is available now to watch or buy at POPPORN.com. It's REALLY fucked up and will probably make you jit onto your computer!